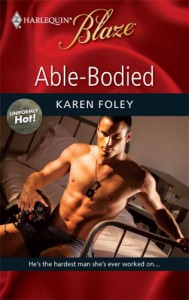 I had difficulty getting into this one.
The H...eh. He was intense. I get that at least some of it might have been because of his military position. He had his moments that I wanted to you know, knee him one.
The h OTOH... Ok, she comes from a well-off family. She's a reiki healer whatever that is - she has a gift, so this is how she chose to work with it. Why she didn't take up therapeutic massage, I dunno. Seems like being in a respected medical field would have been safer. She ran into trouble in her home "town" of Boston in that she set up shop as a new age healer, her shop was vandalized, and the cop who approached had mob connections. Eventually, she snuck off during the night. She really didn't do much to cover her tracks though - any half-assed internet search could have found her.
I don't know that I would necessarily say TSTL, but pretty danged naive and clueless anyway.
So she moved into the apartment below the H, and set up her shop next door. His pacing (he was on leave due to injuries) woke her up, so she goes to visit him - in a tank and a pair of boxers? She did have the thought briefly that she maybe should have covered up more but nah; all her parts are covered, she's good. He assumed she was offering.
She gives him a treatment the next day, they kiss, and he makes some derogatory remark about her not being exactly stacked. He comes onto her the next day? That evening? Whatever, she's once again wearing sleep clothes.
She suggests sex like...the next day...because of the chemistry ya know. Much making out happens. He gets back from training and bangs her again - with his buddies working in the shop next door. Of course, he's had a background check run on her because something seems off. Funny that if he'd grabbed those newspapers she had packing her stock, he could have connected at least one dot.
The bad guys move in, because she had done such a good job of covering her tracks <sarcasm> that it seemingly took them a few weeks. Of course she's concerned that the H and his buddies might be in trouble (delta force? not likely) going against the crooked cop and his mob buddies. I had to laugh at that one.
I'd probably knee him harder if I didn't suspect he was trying to scare her off. Since she didn't seem to pick up on what he was doing, I just want to smack her with a clue-by-four.