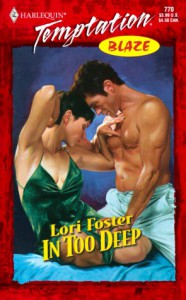 Sort of wonder how this landed in the Blaze/Temptations line - one whole sex scene and it was eh.
I was wondering in the beginning if this was going to be a hate read, but not quite. More of an irritated and/or bored read. The H spent entirely too much of the first chapter or two thinking uncharitable thoughts about the h, from her apparent lack of a bosom to her unwillingness to let a total stranger tell her what to do. Made it a little hard to believe that he got turned on by her in any fashion more than the "haven't had sex in months" sort of way. But we're supposed to believe that he fell in love with her in spite of her lack of decorum or figure (or unwillingness to let a total stranger who managed to get her kidnapped in the first place with his misplaced chivalry - he managed to draw the attention of the bad guys to the fact that she was a girl).
So this was more of a yeah right whatever sort of read.